Dutch Oven sizes can vary based on brand, making finding the best camping dutch oven for your camping setup difficult. Finding the best dutch oven size can also depend on how many people you intend to feed and what types of meals and items you intend to cook. Dutch Oven's vary in diameter but also in depth and volume, or how much food it can hold. In terms of popularity, a 12inch wide Dutch Oven that holds 6-8 quarts is the most common and versatile size for a majority of camping cooks.
However, before you purchase new Dutch Oven, answer these two questions:
1. How many people do you plan to feed?
When searching for a camping Dutch Oven, the biggest factor in deciding what size to buy is determining how many people you're likely to feed for a given meal. If you find yourself cooking for larger groups (any where from 10 to 40 people fairly often (perhaps Scout Troops, Large Picnics, Family Reunions, etc), you'll want to get a larger size.
If you're typically only camping with or feeding groups of 4 to 6 people, you're better off starting on the smaller end of the size range. However, you should factor in a little more room for hungry individuals or if you need room to make enough for seconds and leftovers. For example, a 10 inch vs 12 inch Dutch Oven may limit capacity to 8 biscuits vs 12 biscuits at a time.
2. What types of meals will you be cooking?
The second consideration is to factor what types of meals you anticipate cooking in your Dutch Oven. For some outdoor cooking enthusiasts, you may only prefer to cook dinner rolls, breads and desserts. If that's the case and you're only cooking for a small amount of people, you may want to go a size down or keep with a shallow or standard depth (unless you've got some dessert loving friends of course).
However, if you intend to use your Dutch Oven for cooking all types of meals, we suggest starting at the standard 12 Inch Diameter, deep option that holds 8 Quarts and going a size up in diameter or quart volume based on how many people you're feeding.
If you plan on doing any deep frying, we certainly suggest a Dutch Oven with Higher walls or more Depth. These will ensure there's more room for oil and ability to submerge anything you're frying while also having additional height to help avoid oil from splattering.
Common Dutch Oven Brands and Sizes
Lodge Cast Iron
Lodge Cast Iron is one of the most well-known cast iron cookware brands in the United States. This family-run business started as a metal foundry and has over 125 years of expertise in manufacturing cast iron products, proudly made made in the USA. See below for their Dutch Oven Size Chart.
Lodge Dutch Oven Sizes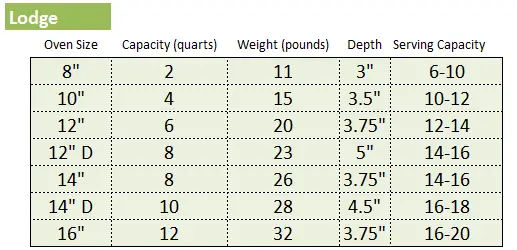 Camp Chef
Camp Chef is a relative newcomer in the outdoor cooking equipment space, originally known for the grill-top cooking systems. Over the years, their product range has grown to include high-quality cast iron cookware including camp ovens, griddles, cast iron skillets and more. See below for their Dutch Oven Size Chart.
Camp ChefDutch Oven Sizes
What's the difference between Lodge and Camp Chef Dutch Oven sizes?
When looking at these two brands, the key differences in size are going to be in their "D" or "Deep" sizes (Lodge) and the "Deluxe" or "Deep" sizes (Camp Chef).
If you're looking for the deepest option, both Lodge and Camp chef offer identical dimensions for their 12 inch "D" versions. However, the Camp Chef 10 inch "Deluxe" has the most depth of any 10 inch options.
Camp Chef doesn't offer a deep 14 inch option, however Lodge does and it offers nearly 1 additional inch of depth.
Both offer a 16 inch standard depth option with Camp Chef being only marginally more deep.
Summary
The best size Dutch Oven to buy for camping is the one that makes the most sense for you based on how many people you're cooking for and what you plan on cooking. A 12 inch Standard Depth Dutch oven will be appropriate for most camp cooks. If feeding a larger crowd, 10-12 quart options may be best.
What's the best best size dutch oven for bread?
A 12 inch, 8 Quart Deep Depth option is best. If baking a loaf of bread in your camping oven, the added depth will allow plenty of room for the dough to rise in the baking process. Similarly, if you're baking small rolls, the 12 inch diameter is enough to back at least dozen dinner rolls.
What's the best dutch oven size for 4 people?
In all likelihood, a 10 inch, 4 quart Dutch Oven will suffice. However, this will soon become fairly small if trying to cook meals that require a bit more room such as beef roasts, whole chickens or even bread. For more versatility, the best dutch oven size to start with is a standard depth 12 inch 8 quart dutch oven.
Once you get your new Dutch Oven, we've prepared several articles and guides that we suggest as recommended reading and should help you get started in no time: